Welcome to the Rocky Travel Media Page
As a leading Travel Blog for the Female Solo Traveller in Australia and Europe, Rocky Travel has been featured on various Media: on TV, Radio, Online Magazines, Blogs and Travel Websites. You can find a list of the links to all relevant publications, mentions, interviews and rewards here below.
Accolades and Awards
Top 25 Solo Female Influencers to follow in 2019 – Izea
Top 20 Solo Female Bloggers to follow in 2019 – My little Adventure
Top Bloggers and Influencers to Follow – Credit Donkey
Top 100 Solo Travel Blogs 2018 – FeedSpot
Top 100 Solo Female Travel Blogs 2018 – FeedSpot
Top 20 Australia Travel Blogs 2018 – FeedSpot
Top 30 Travel Tips Blogs 2018 – Feedspot
Top 10 Solo Travel Blogs & Instagram Accounts – Alternative Airlines
Top Solo Travel Blogs 2018 – Hello Travel
Top 10 Solo Female Travel Blogs 2017 – Top 10 Travel
Top 100 Australia and New Zealand Travel Blogs 2017 – Petraveller
Top Australia and New Zealand Travel Blogs 2017 – Asher Fergusson
Top 100 Travel Blogs to follow in 2017 – The Smart Lad
Top 20 Solo Travel Bloggers you should be following in 2017 – Holidaylettings.co.uk
Top 7 Australian Blogs – Nullarbor Roadhouse South Australia
Top 50 Australia Blogs 2016 – Feedspot
Best Female Travel Blog to Follow in 2016 – Credit Donkey
Best Travel Blogs 2016 – Nomadsnation.com
Best 50 Budget Travel Blogs – Credit Donkey
16 Australian Travel Bloggers for Oz Travel Inspiration – RedzAustralia
7 Niche Australian Travel Bloggers to watch in 2015 – Go Future Media
Top 25 Budget Travel Blogs to Follow in 2014 – Flipkey.com
55 Australian Travel Blogs and Bloggers to watch in 2014 – Get in the HotSpot
41 Australia Travel Blogs and Bloggers 2013 – Queensland Tourism
Best Destination Blog Award 2012 – Avis UK
Google Top 150 Travel Sites – Travel Monkey
150 Travel Blogs 4 Students – College Scholarship
Interviews & Podcasts
Interview with Solo Travel Blogger Michela Fantinel – TravelAwaits
Living Life Freely – how a passion for Australia turned into a blog – Vision Direct
Michela Fantinel Passione per un continente affascinante – Luomoconlavaligia Online Magazine
The Author Talk Show – Interview with Dr Lynda Brown – Blog Talk Radio US
Uluru or Ayers Rock Australia – Podcast on Great Destinations Radio Shows
Interview with Expert Traveller Michela Fantinel of Rocky Travel – Girl about the Globe
Q & A with Australia Travel Blogger Michela Fantinel – Laura Zera
Solo Travel in Australia for women over 40 – More Time Travel
Q & A about Solo Female Travel Australia – The Wanderlusters
Expert Shares best Australia Planning and Travel Tips – Wandering Educators
Viaggiare da Sola Una Passione SBS Melbourne
Io Viaggio da Sola Australia – Viaggi e Virgola
Interview with Rocky Travel – The Career Break Site
Interview with an Australian Expert – Travel Packing Made Simple
Why Travel Australia – Hostelsclub
Why Women Travel Solo – Something in Her Ramblings
Guest Author on Travel Websites and Blogs
Solo Female Travel to Australia: A guide to Oz for the first-timer on Women-on-the-road
7 Tips for Solo Travel with 50 – Lifestylefifty
5 Australia road trips for the Solo Traveller – MappingMegan
Why Travel Australia + 10 Free Things to do in Cairns – Hostelsclub
How to save money on your Australia Trip – Traveldudes Blog
Australia Dreaming + Australia Low Cost, yes we can – Turismo.it
Collaborations and Mentions
10 Women share Tips to Save Money while Travelling NerdWallet
Solo Travel: Overcoming the fear of travelling alone Ora Cook
Top European Destinations for a summer road trip Your Parking Space
The 15 best places to visit in October in the world The World Pursuit
Prague First-Timers Guide – what to do and not to miss Passing Through
What kind of traveller are you? A Quiz Holiday Lettings
89 Bloggers share their favourite natural site on earth For the Love of Wanderlust
Throwback 2016 – Travel Bloggers share their favourite destinations in Ana's world
The World's most surreal landscapes – on HuffingtonPost
The World's best beaches from the eyes of 15 girl travellers on HuffingtonPost
Australia Travel Guide on Nomadic Notes Website
20 Budget Travellers share their tips on Trip Advisor
Travel Bloggers and Writers on WhereRyourPartners
Donne in Viaggio Professione Travel Blogger on Bigodino
Australia Rocky Travel on Travel Quotidiano
Bloggers and Influencers Platforms
You can find me on some blogger platforms like SheKnows, Blogher, Triberr, FeedSpot.
I'm also a member of the travel blog traffic exchange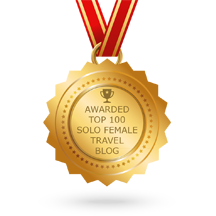 The Rocky Travel Media – Get in Contact with me
For media and marketing enquiries, as well as inquiries about collaborations, press and familiarisation trips, please check out this page with all my services.
To request my Media Kit, fill out the form here below. Or send an email to info (at) RockyTravel (dot) net with the title in the subject: Media & Marketing Collaborations.
You can also check my Sponsoring and Advertising Page.
I'm looking forward to hearing from you!
Michela